Zondag 5 november
Deze requiem mis zullen we uitvoeren met klein barok ensemble
Zondag 5 maart 2023, Vrije School, De Meesterstraat 2 in Delft, aanvang 15:00 uur
Het programma is Franstalig en bevat chansons, een nieuw genre in het begin van de 16e eeuw. Maar de componisten kwamen deels uit Vlaanderen en de noordelijke Nederlanden. Belangrijke namen waren Josquin des Prez, Claudin de Sermisy, Orlando di lassus, Passereau, Clément Jannequin en Jan Pieterszoon Sweelinck.
Nieuwe datum!      vrijdag 11 maart 2016 om 20:15 uur
plaats: Delft, Oud Katholieke Kerk, Bagijnhof 21,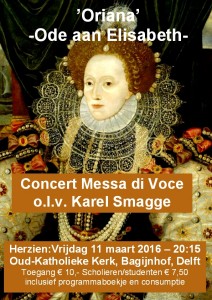 Het thema van ons concert is afkomstig uit een serie van 25 madrigalen die ter ere van Koningin Elizabeth I  werden gecomponeerd door verschillende componisten en die werden samengesteld door Thomas Morley in 1601. Morley componeerde er zelf ook enkele. We zingen vijf madrigalen uit deze serie plus nog 12 anderen. Elk lied eindigt met ongeveer hetzelfde refrein:
"Then sang the Shepherds and Nymphs of Diana:
Long live fair Oriana!"
Oriana was de bijnaam van de koningin. Het compliment is duidelijk. Elizabeth wordt gelijk gesteld aan Oriana, de heldin van de ridderroman 'Amadis de Gaul (Gallië)'. Het past ook in het beeld dat de nymfen van Diana, godin van de kuisheid, Elizabeth, de virgin queen, zouden dienen. De geïdealiseerde, herderlijke enscenering stelt Elizabeth voor als de eeuwig mooie koningin heersend over Arcadië, de terechte, vereerde heerseres van een idyllisch land. Ook interessant is dat Morley een concreet Italiaans voorbeeld voor ogen had dat hij wilde evenaren dan wel wilde overtreffen. Het betreft een madrigalenbundel uitgegeven in Venetië in 1592. Het was opgedragen ter ere van de bruid voor de bruiloft van Leonardo Sanudo. Het heette 'Il Trionfo di Dori'. Het betrof 29 madrigalen geschreven door 29 componisten. Ze eindigden alle op 'Viva la bella Dori'. Een 'triumph' van Morley 'Hard by a crystal fountain' is een vrijwel letterlijke vertaling van een tekst van Giovanni Groce.
Programma
robyn, gentyl robyn,                                      i        William Cornyshe (1465-1523)
All Creatures Now                                        a5     John Bennett (c. 1575 – na 1614)
Come, Gentle Swains                                  a5     Michael Cavendish (c. 1575-na 1614)
As Vesta was from Latmos                         a6     Thomas Weelkes (c. 1575-1623)
Hard by a crystal fountain                           a6     Thomas Morley (1558-1603)
The Leaves Bee Greene                               i        William Inglott (1554-1621)
Music Divine                                                a5     Thomas Tomkins (1572-1656)
Too Much I Once Lamented                        a5     Thomas Tomkins
Draw On, Sweet Night                                 a5     Thomas Tomkins
O Metaphysical Tobacco                            a5     Michael East (c. 1580-c. 1647)
The Silver Swan                                          a5     Orlando Gibbons        (1583-1625)
Fyer, Fyer!                                                   a5     Thomas Morley
Browning                                                       i        Elway Bevin (ca. 1554-1638)
Say, Gentle Nymphs                                   a4     Thomas Morley
Weep, O Mine Eyes                                    a4     John Bennett
Can She Excuse                                         a4     John Dowland (c. 1562-1626)
Come Again                                                 a4     John Dowland
Dances                                                           i        Anthony Holborne (c. 1545-1602)
Pavan V The Cradle
Galliard XXXX
Almain LX The Honie-suckle
Galliard LXV Heigh ho holiday
Though Amaryllis daunce in Greene          a6     William Byrd (1543-1623)